Visitors Today
Melinda Sue's Weekend
At the Museum of Appalachia
Norris, Tennessee
October 7 - 11, 1998
Please Sign My Guestbook or E-mail: Melinda Sue
If you like this site, please click on
the "Recommend It" Button At The Bottom Of The Page. Thank You.
"My Sunshine"


---
John Hartford
"Gentle On My Mind"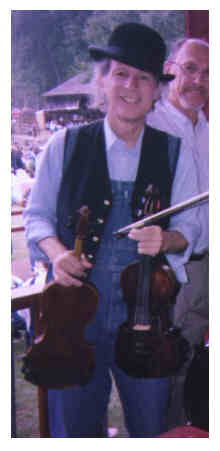 Photograph By: Melinda Sue
John Hartford is :
One of the most Captivating Entertainers of our time, a Nationally known Banjo player, Fiddler, Singer, Songwriter ("Gentle on My Mind", etc.), Television Star, and active Riverboat Pilot ..... and this weekend, leader of the Appalachian Singalong.
---
Gentle On My Mind
It's knowin' that your door is always open
And your path is free to walk
That makes me tend to leave my sleeping bag
Rolled up and stashed behind your couch.
And it's knowing I'm not shackled
By forgotten words and bonds
And the ink stains that have dried upon some line
That keeps you in the backroads by the rivers of my memory
That keeps you ever gentle on my mind.
It's not clinging to the rocks and ivy planted
On their columns now that binds me.
Or something that somebody said because they thought
We fit together walkin'.
It's just knowing that the world will not be cursing or forgiving
When I walk along some railroad track and find
That you're moving on the backroads by the rivers of my memory
And for hours you're just gentle on my mind.
Though the wheat fields and the clothes lines
And the junkyards and the highways come between us.
And some other woman crying to her mother
'Cause she turned and I was gone.
I still might run in silence, tears of joy might stain my face
And a summer sun might burn me till I'm blind.
But not to where I cannot see you walkin' on the backroads
By the rivers flowing gentle on my mind.
I dip my cup of soup, back from the gurgling cracklin' cauldron
In some train yard
My beard a roughning coal pile and a dirty hat
Pulled low across my face.
Through cupped hands 'round a tin can
I pretend I hold you to my breast and find
That you're waving from the backroads by the rivers of my memory
Ever smilin' ever gentle on my mind.
1968 - Written By John Hartford
John Hartford &
"The Band"
Photograph By: Melinda Sue
John Hartford, Fiddle
Calvin, Bass
Chris Sharp, Guitar
Mike Compton, Mandolin
Larry Perkins, Banjo
If You look real close at the top of the picture,
you can see where John signed my picture
"For Melinda....John Hartford"
He is so very nice!!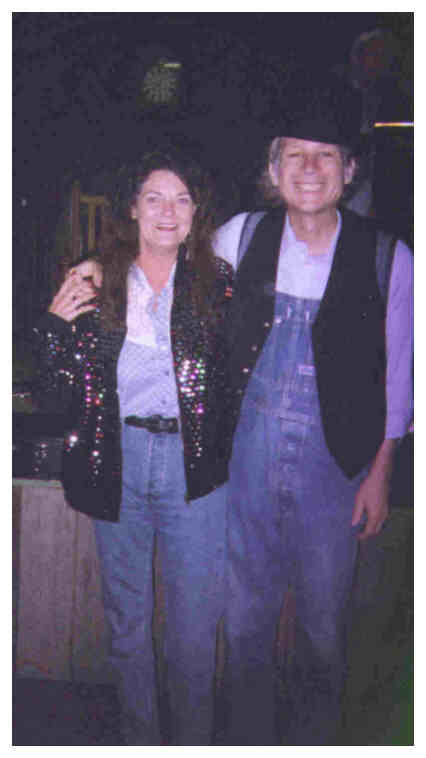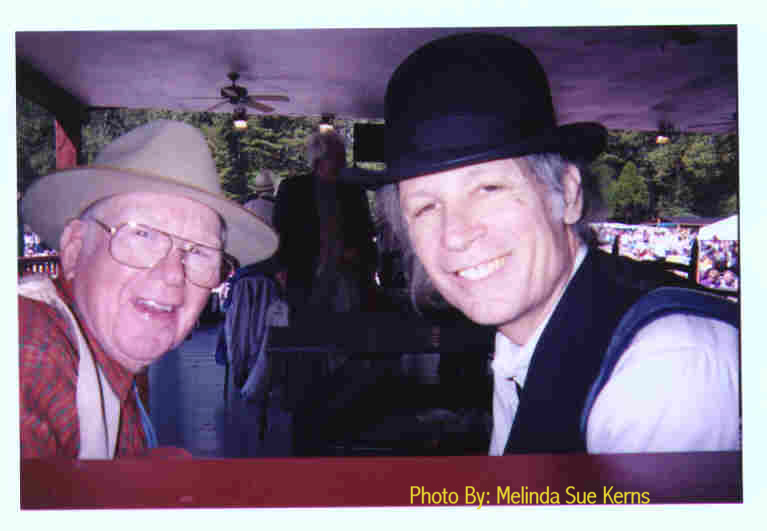 Photograph By: Melinda Sue Kerns
Charlie Acuff, Left-Handed Fiddler
with John Hartford
---
Charlie Acuff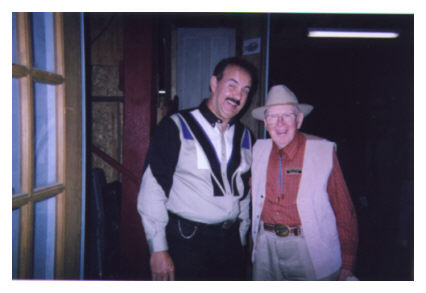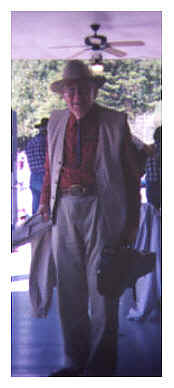 Photograph By: Melinda Sue Kerns
Phil Campbell
Comedian, musician,
and the co-host of TNN's
top-rated "Club Dance".
Charlie Acuff is a left-handed
Fiddler from Union County,
and a regular at the Museum of Appalachia.
---
LeRoy Troy
"The Tennessee Slicker"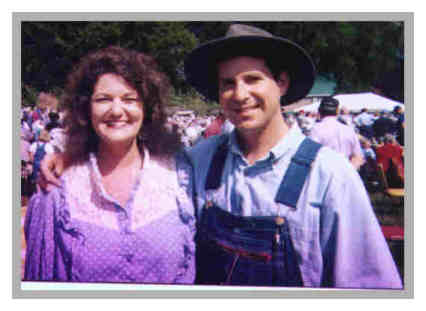 Uncle Dave Macon style Banjo Pickin'
One of my pleasures in attending the
Museum of Appalachia's Annual Homecoming
is to see and talk with LeRoy Troy. He is a talented and
knowledgeable individual who is very interested in early country
music. An accomplished performer, LeRoy always has a group
around to be entertained and he is gracious and courteous
in responding to the many questions about his music.
One unusual instrument that LeRoy has is an Upright Washtub Bass.
Click Here to See the Washtub Bass
LeRoy Troy Home Page
Then use your "Back Button" To return to this page
to resume recapturing my wonderful weekend.
Thank you, LeRoy, for allowing me to add you to my website.
---
Raymond Fairchild
World Champion Banjo Picker
A 5-time World Champion, and
"The #1 Banjo Picker in the World"--
quote from Dr. Nat Winston (truly fabulous, remarkable,
and unforgettable)
---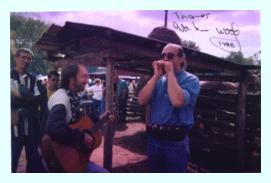 Photograph By: Melinda Sue Kerns
Wailin Wood
Harmonica (Mouth Harp)
Fabulous Harmonica player-- one of the most talked about acts--
First Place National winner, plus many other "firsts",
accompanied by Danny Twilley.
---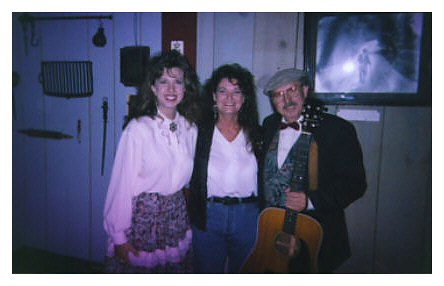 Laurie & Bill Sky
They have performed throughout the country --
from the Ozarks to Carnegie Hall,
and for several years at the Homecoming Event
at the Museum of Appalachia.
They won "Folk Music
Award of the Year".
They can also be found on occasion
performing at the Bell Buckle Cafe,
in Bell Buckle, TN., where I was personally invited
to a recording session and I thoroughly enjoyed it!!
Bell Buckle Cafe (Use your "Back" button to return to this page)
---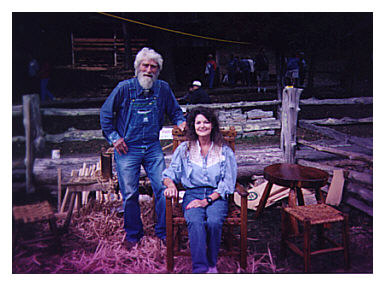 Sherman Wooten
(And Melinda Sue)
Appalachian Craftsman
Black Walnut Furniture made to order
Rocking Chairs, Coffee Tables, mantels
Kentucky
---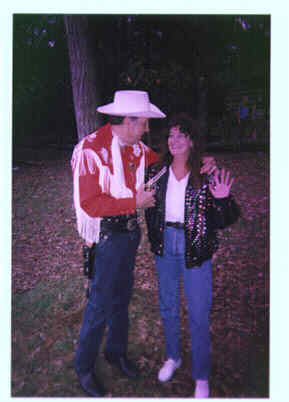 Marshal Andy
Marshal Andy said I was having
" MUCH FUN!"
---
News Updates

Photo Courtesy of Knox News Sent
Marshal Andy and Eddy Arnold
Visit U.T. Ballgame

Country Music's Legendary star Eddy Arnold and his wife Sally, of Brentwood, also were in Knoxville last weekend and visited their friends Marshal Andy and Kathryn Smalls. The foursome joined University of Tennessee athletic director Doug Dickey and his wife Joanne, in their box at the stadium for the UT-Bama football game. Eddy had appeared the week before at Governor's Palace in Sevierville. Now 80, he continues to make four major appearances each year. Eddy and Andy's friendship goes back 22 years, and Eddy makes appearances on Marshal Andy's television show, "Riders of the Silver Screen." They will appear together on the mid December show airing on PBC. The foursome were caught up in the apres-the game traffic as so many were, but finally made it to the Smalls', where they enjoyed dessert and coffee and
Celebrated U.T.'s Victory!
Courtesy of Knoxville News Sentinel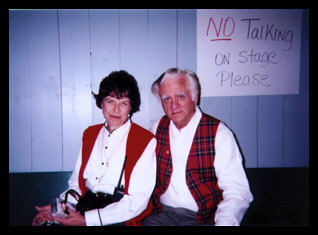 I would like to thank John Rice Irwin for making it possible for me to enjoy the weekend at the
Museum of Appalachia's Homecoming with all of our friends. I would like to thank all of my friends
here for allowing me to add them to this web site.
Thank You!
Melinda Sue Kerns, SouthDoc Photographer
(P.S. I will have more photographs as soon as they are developed!)
So, please come back soon!

Melinda Sue
---
Back To Top
New Updates!!
John Hartford
Charlie Acuff
Phil Campbell
LeRoy Troy
Raymond Fairchild
Wailin Wood
Bill & Laurie Sky
Sherman Wooten
Marshal Andy
Graylen Cook
---
"Other News Updates"
"More Pictures From Day At The Museum"
A Tribute To The Titanic- copyrighted. I make no claims except that I enjoyed the Movie Very Much!

"My Sunshine: [A Story about a child with Cystic Fibrosis and how God Reached down and touched him from Heaven]"
---
"Page Two"
(Please Use Your BACK Button To Return To This Page)
---